Papa John's Fundraising Cards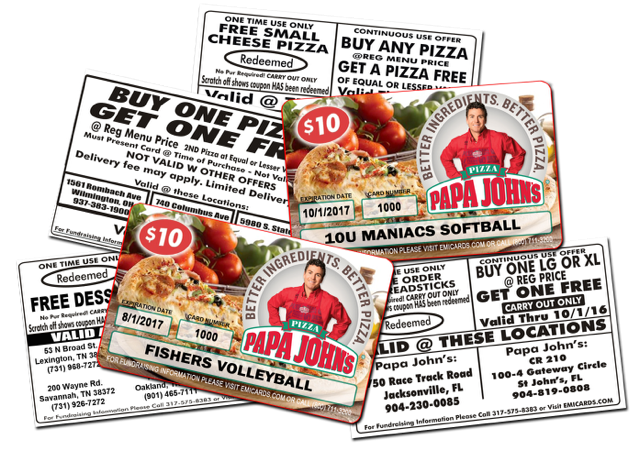 Papa John's Fundraising Cards are your ticket to holding the easiest and most profitable fundraiser that your school, group or organization has ever had. The cards offer a great opportunity to sell a product that delivers year-round savings at a restaurant that people already love. A product that people love means easy sales, and easy sales means large profits for your group.
While our full line of fundraising cards are geared towards larger groups, our pizza card fundraisers usually work best with small to medium sized groups or teams.
The front of the card features a great graphic branded with the Papa John's logo as well as your group's name.
Why are these cards so valuable?
Sells for just $10
Can be immediately redeemed for a free pizza
Includes a buy one get one free offer that can be used every single day for an entire year
Customers get to support your team or organization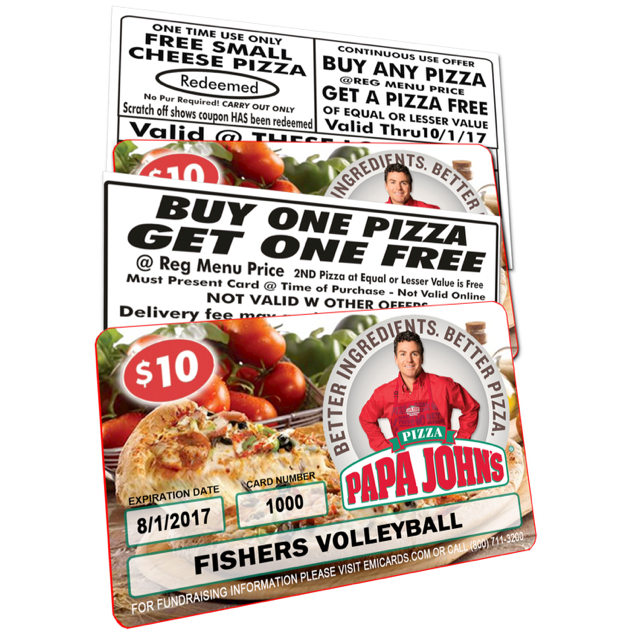 How Pizza Card Fundraising Works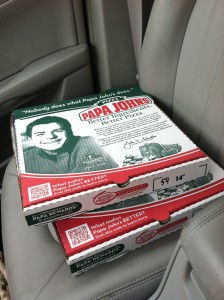 First, decide which pizza brand you want to feature. Some brands are preferred or are more popular in different areas. We are talking specifically on this page about the Papa Johns cards, but also offer pizza fundraising cards for Dominos Pizza, Little Caesars, and Pizza Hut.
The reason these pizza fundraising cards work so well boils down to simplicity and value. The product is easy to sell, and the people in your community understand what they are getting for their money. The cards sell for $10 and one of the two offers on the back of the card is for a one-time free large on-topping pizza at Papa John's. Even if the buyer only uses the card one time for that deal, they make their money back while still contributing $10 to your cause.
But it gets even better.
The second offer on the pizza fundraising card is a Buy One, Get One Free offer that is reusable every day for an entire year. Everybody loves pizza – and the only thing better than pizza is FREE pizza!
The buyers of your card can get free pizza 365 days a year for just $10, as well as the satisfaction of supporting your team or group.
Bottom line: the Papa Johns cards are valuable, and simple which makes selling them to your community quick, easy and profitable.
EMI has been helping groups like yours exceed their fundraising goals for over 20 years and we look forward to the opportunity to help your group earn some fast profits with the Papa Johns pizza cards. We have great relationships with corporate Papa Johns all over the country and all discounts are subject to the discretion and approval of Papa Johns. Papa Johns is a registered trademark of Papa Johns Inc. Please call us at 800-711-3200 to get your Papa Johns Cards fundraiser scheduled today!
View Our Other Great Pizza Cards: